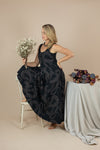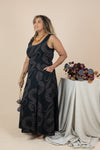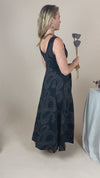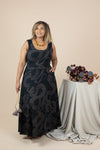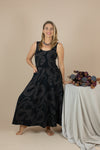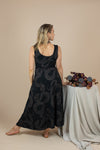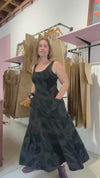 More on this garment...
Garment Features

A skater style dress, with a lined bodice, giving you extra smooth lines and support.

Front waistline has a delicate dip in the front centre.
The skirt flares out away from the hip giving you loads of room for your tummy and hips to feel easeful.

Great pockets which are easy for your hands to find.

Great for moving and dancing in!


Model Details & Sizing

Use your bust and waist measurements to find your size in this dress. Plenty of room for full hips.

If you wear a consistent dress size across brands, we suggest you use that size over our chart.

Scroll down for our size chart.

Please get in touch if you're not sure what size to buy.

Sally (blonde hair) wears a size 12. Her measurements are:
Height: 172cm
Bust: 96cm
Waist: 78cm
High Hip: 96cm
Low Hip: 101cm

TJ (crimped hair) wears size 18. Her measurements are:
Height: 163cm
Bust: 104cm
Waist: 93cm
High Hip: 120cm
Low Hip: 130cm

Ingrid (long brown hair) wears size 12. Her measurements are:
Height: 173cm
Bust: 93cm
Waist: 83cm
High Hip: 98cm
Low Hip: 105cm

Dalee (longish brown hair in try on vids) wears size 12. Her measurements are:
Height: 168cm
Bust: 96cm
Waist: 86cm
High Hip: 99cm
Low Hip: 117cm

Clare (brown bob in try on vid) wears size 10. Her measurements are:
Height: 168cm
Bust: 93cm
Waist: 82cm
High Hip: 111cm
Low Hip: 118cm




Garment Length

From shoulder to hem is 131cm
About Our Fabric

Stretchy & thick

93% Certified Organic Cotton 7% Spandex
Knitted in Melbourne
Hand screen printed in Melbourne

This fabric is roughly 250gsm in weight and is a thick and sturdy version of the knit Gwyllem clothing uses.

We believe in this fabric and know it will last a very long time.

We designed this print specifically for the double take effect. We used a soft grey-brown ink on black with lots of negative space to create a print which recedes in muted light and pops in bright light.


We Sew Them

Made in Australia!

We cut & sewed our debut collection in our small Lismore studio using our hands only. We sold out our first collection within hours, so we have partnered with makers in Melbourne and Ocean Shores, NSW to bring our pieces to life. We believe in actively changing the fast fashion paradigm AND we believe that clothing can be ethically and sustainably produced with strong environmental values and NO waste.

Care Guide

This fabric is wonderfully easy to care for! Just make sure you don't leave your piece on the line in the sun for a long time. Continued UV exposure will fade the organic dyes.

We recommend drying in the shade. When your piece needs a deep clean, hang it in the sun inside out for no longer than a day at a time.

Machine wash on a gentle cycle with cold water.

If you follow this guide your piece will last you ages!

Shipping

We are a team of two creative women who wear all the hats running this small biz.

We endeavor to ship your pieces out within a 3-5 day timeframe but on occasion, we will need to extend that. We will communicate with you if, for some reason, we have to delay dispatch. Please let us know if you need your piece by a certain time and we will aim to make it happen.

Australia Postage Costs:
Free over $150 spend for regular Australia Post service
Under $150 is flat rate $10
You can pay extra for Express shipping.

International Postage Costs:
New Zealand - Free over $150 spend, under $150 is flat rate $10
United States - Flat rate $16
Everywhere else - Flat rates $25

As our studio space is located regionally, in Lismore, Northern NSW, please add an extra day or two for your beautiful package to get to you.
Returns & Exchanges

We offer 30 day returns and exchanges.

We know shopping online can be tricky. So we try to provide as much info as possible so you can know what you're purchasing.

If it doesn't work out, please send us an email as soon as you know you'll be returning it. That way we can allocate the piece to someone else who would love to own it.

Return shipping cost is the customer's responsibility. If you're doing an exchange we will cover the cost of shipping your new item to you.

Sale items are available for exchange however a refund will be at our discretion. We are a tiny start up brand and cash flow is very important to the health of our new biz, we know you understand.
All the details on our special hand made garments
of our hand screen printed, certified organic, stretch cotton.
Knitted and printed in Melbourne.
Departments
I love my diamond python dress
I now have all 3 of the beautiful flow dresses and I feel fabulous wearing them all. I bought this one in my regular size; the other 2 I have a size smaller and they are great. The diamond pythons is just that little bit more flattering as it has that extra room and is super comfortable to wear. I love them all, but I love this one a tiny bit more.
Gorgeous Flow Dress
This is my second flow dress. I have to agree they are absolutely every day dresses.
I wear mine in a corporate environment with jacket and then slip on sneakers and transitions to after work / casual .
Beautiful thick fabric with flow , well tailored and you feel both feminine and put together . My only regret is I missed the opium dress , then I could have the trifecta.
I love these dresses , they will be on regular rotation .
Departments