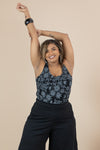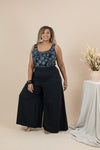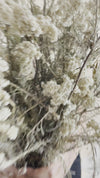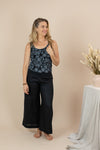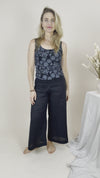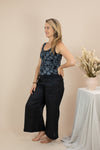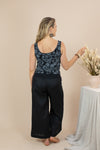 More on this garment...
Garment Features

A super simple, round neck, stretch shape that coordinates with everything in our range.

Finished with a simple cover-stitch hem.
Model Details & Sizing

Use your bust and waist measurements for this one. Size up if you'd like a more relaxed fit.

Scroll down for our size chart.

Sally (blonde hair) wears a size 12. Her measurements are:
Height: 172cm
Bust: 96cm
Waist: 78cm
High Hip: 96cm
Low Hip: 101cm

TJ (crimped hair) wears size 18. Her measurements are:
Height: 163cm
Bust: 104cm
Waist: 93cm
High Hip: 120cm
Low Hip: 130cm

Ingrid (long brown hair) wears size 12. Her measurements are:
Height: 173cm
Bust: 93cm
Waist: 83cm
High Hip: 98cm
Low Hip: 105cm

Dalee (longish brown hair in try on vids) wears size 12. Her measurements are:
Height: 168cm
Bust: 96cm
Waist: 86cm
High Hip: 99cm
Low Hip: 117cm

Clare (brown bob in try on vid) wears size 12. Her measurements are:
Height: 168cm
Bust: 93cm
Waist: 82cm
High Hip: 111cm
Low Hip: 118cm

Garment Length

53cm
About Our Fabric

Stretchy & thick

93% Certified Organic Cotton 7% Spandex
Knitted in Melbourne
Hand screen printed in Melbourne

This fabric is roughly 250gsm in weight and is a thick and sturdy version of the knit Gwyllem clothing uses.

We believe in this fabric and know it will last a very long time.

Expect this print to have a tacky feel at first as it's a light colour on a dark base, it uses a lot of ink. We assure you this softens with body heat, and further again with the first wash, becoming wonderfully soft yet sturdy.

The print will also crack when stretched out, but will come back once the tension is released. On areas where the fabric is under constant stretch, the cracking will remain. We however, love the look of this as it gives in an extra patina which works so perfectly with the lino prints. We love that the fabric develops character.

We Sew Them

Made in Australia!

We cut & sewed our debut collection in our small Lismore studio using our hands only. We sold out our first collection within hours, so we have partnered with makers in Melbourne and Ocean Shores, NSW to bring our pieces to life. We believe in actively changing the fast fashion paradigm AND we believe that clothing can be ethically and sustainably produced with strong environmental values and NO waste.

Care Guide

This fabric is wonderfully easy to care for! Just make sure you don't leave your piece on the line in the sun for a long time. Continued UV exposure will fade the organic dyes.

We recommend drying in the shade. When your piece needs a deep clean, hang it in the sun inside out for no longer than a day at a time.

Machine wash on a gentle cycle with cold water.

If you follow this guide your piece will last you ages!


Shipping

We are a team of two creative women who wear all the hats running this small biz.

We endeavor to ship your pieces out within a 3-5 day timeframe but on occasion, we will need to extend that. We will communicate with you if, for some reason, we have to delay dispatch. Please let us know if you need your piece by a certain time and we will aim to make it happen.

Australia Postage Costs:
Free over $150 spend for regular Australia Post service
Under $150 is flat rate $10
You can pay extra for Express shipping.

International Postage Costs:
New Zealand - Free over $150 spend, under $150 is flat rate $10
United States - Flat rate $16
Everywhere else - Flat rates $25

As our studio space is located regionally, in Lismore, Northern NSW, please add an extra day or two for your beautiful package to get to you.
Returns & Exchanges

We offer 30 day returns and exchanges.

We know shopping online can be tricky. So we try to provide as much info as possible so you can know what you're purchasing.

If it doesn't work out, please send us an email as soon as you know you'll be returning it. That way we can allocate the piece to someone else who would love to own it.

Return shipping cost is the customer's responsibility. If you're doing an exchange we will cover the cost of shipping your new item to you.

Sale items are available for exchange however a refund will be at our discretion. We are a tiny start up brand and cash flow is very important to the health of our new biz, we know you understand.
All the details on our special hand made garments
of our hand screen printed, certified organic, stretch cotton.
Knitted and printed in Melbourne.
Departments
Love the design and the fabric
I love these little tank tops , perfect for the summer. Beautifully made and designed. I really love the print as the flannel flower is one of my favourite flowers I was always going to buy this top!
Thanks ladies for such a stunning flattering collection.
Departments